Health Savings Account (HSA)
Health Savings Account (HSA)
Save at a healthy rate to cover healthcare costs — complete with tax-free* interest earnings. An HSA offers quick access to funds set aside for medical expenses when you need them**. You have full access and full control.
Open an HSA in conjunction with any high deductible health plan (HDHP) and enjoy a savings account that is completely dedicated to you and your family's health.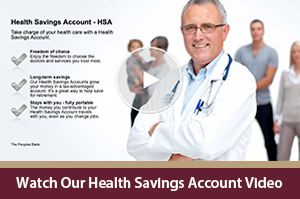 Benefits
Save for future medical expenses
Earn competitive tax-free* interest
Contributions are tax deductible
Quick, easy access to your medical savings
Free online banking
Free mobile banking***
Funds roll over annually
Account not tied to your employer
$25 minimum opening deposit
Federally insured by the FDIC
Complete Truth-In-Savings disclosures are available upon request.
Other bank fees such as non-sufficient fund fees/fees for paying/returning overdrafts may be imposed based upon customer transactions.
*Annual contribution limits are set by the IRS.
**When used for qualified medical expenses. Consult a tax advisor.
***Wireless carrier data rates may apply.